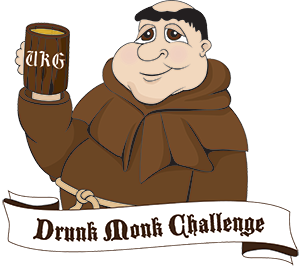 The Urban Knaves of Grain Homebrew Club
presents
The 20th Annual Drunk Monk Challenge

An AHA Sanctioned Homebrew Competition
Featuring: The Menace of the Monastery Competition...
a fun competition celebrating beer styles which can be traced to the monastic brewing traditions of Belgium and Germany.


Professional Ramp-Up for 2018
Two Brothers Brewing will select a beer from the Best of Show table to ramp-up on their small batch system at the Two Brothers Roundhouse as their entry into the Pro-Am competition at the Great American Beer Festival (GABF) this year! The selected beer's brewer will be invited to be an Assistant Brewer for the brewing of their beer at the Roundhouse.


Giving Back To The Community
Each year, the Urban Knaves of Grain Homebrew Club likes to give a little back to the community. Last year, a portion of the competition proceeds were donated to America's VetDogs® Service Dog program.

The service dog programs of America's VetDogs® were created to provide enhanced mobility and renewed independence to veterans, active-duty service members, and first responders with disabilities, allowing them to once again live with pride and self-reliance.

Competition Information
For the latest results and past winners, please see Competition Results.
| | |
| --- | --- |
| | Not every category earns them but, in 2017, we introduced Honorable Mention Ribbons to recognize everyone who earns a spot on the results board. |
When:
March 9-10, 2018

Friday Judging – March 9, 2018
Main Judging – March 10, 2018
See the UKG Club Calendar for the full schedule.
Where:
Two Brothers Roundhouse
205 North Broadway
Aurora, IL 60505
630-264-BREW (2739) or 630-393-BEER (2337)
View Map
Entry Fee:
Drunk Monk Challenge – $8.00 per entry
Menace of the Monastery – $8.00 per entry

All entries must be pre-submitted online. No paper entries will be accepted. Payment for entries will be accepted with your entries by Paypal online, Cash or Check submitted with entries. Please make checks payable to: UKG.
Entries:
Entries accepted February 12th through March 2nd, 2018
See the DMC registration page for drop-off locations.

Entries may also be shipped to the following location:
Two Brothers Roundhouse
c/o DMC
205 North Broadway
Aurora, IL 60505

No walk-in entries allowed.
Competition Results:
Our Raffle and Awards ceremony follows the judging on March 10th. Join us on the Drunk Monk Challenge Facebook page for the simulcast presentation of awards. As winners are announced in each category live at the Two Brother's Roundhouse, we'll post those results on Facebook.

Check our Competition Results page after the competition for the full listing of winners from this year's Drunk Monk Challenge and past years.
Raffle:

We will have a few high-end grand prizes along with the usual variety of prizes from our sponsors in this year's raffle. You must be present to win.

Categories:
Beer, Mead, & Cider entries will be judged in classes and subcategories listed in the 2015 BJCP Style Guidelines.
How to Enter:
Follow the Rules and Regulations. Register online and create an entry for each of your brews. The entry form will create bottle labels for you; print the labels and attach to your bottles with a rubber band--no tape please! You will need two brown or green 10-14 oz. bottles of brew for each entry. Package the bottles appropriately and drop them off at one of our approved drop-off locations, or ship to the Two Brothers Roundhouse at the address above.

This competition will be limited to the first 800 entries received. After 800 entries, the registration system will be closed and no further entries will be accepted.
Menace of the Monastery Entries:
Registration for the Drunk Monk Challenge is via Beer Competition Software. A special brew category is assigned in the software for Menace of the Monastery (MOM) entries. Register MOM entries using this special category and specify in the Notes section what style of beer you are entering. More information...
Judges/Stewards:
Your assistance is needed to ensure the quality of our competition. Please check the Judge/Steward checkbox on the entry form when registering and join us for a great time. Judging registration begins January 31, 2018.



Contact with any questions about Judging.

Contact with any Stewarding questions.

Stewards please review the DMC Unpacking and Stewards Guide.

Sponsors:
If you would like to assist in the success of our competition, please contact any of our sponsor coordinators, , , or .
Questions:
For all other questions, please contact the Drunk Monk Challenge Competition Coordinator, .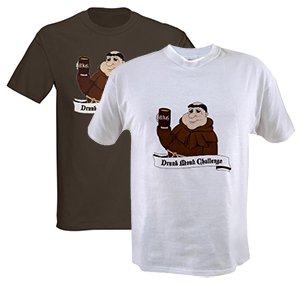 Visit our Drunk Monk Challenge store
to purchase genuine DMC clothing and glassware.

Get Shirts as low as $10.00